An outdoor hotel elevator that you won't notice at first glance
Even an outdoor elevator can look stylish and fit into the environment. And at the same time serve well. The proof is, for example, the evacuation elevator, the construction of which we installed in the Olberg Hotel in Olomučany near Blansko. Even though it is an outdoor extension to an already functioning hotel, at first glance the construction modifications are not visible.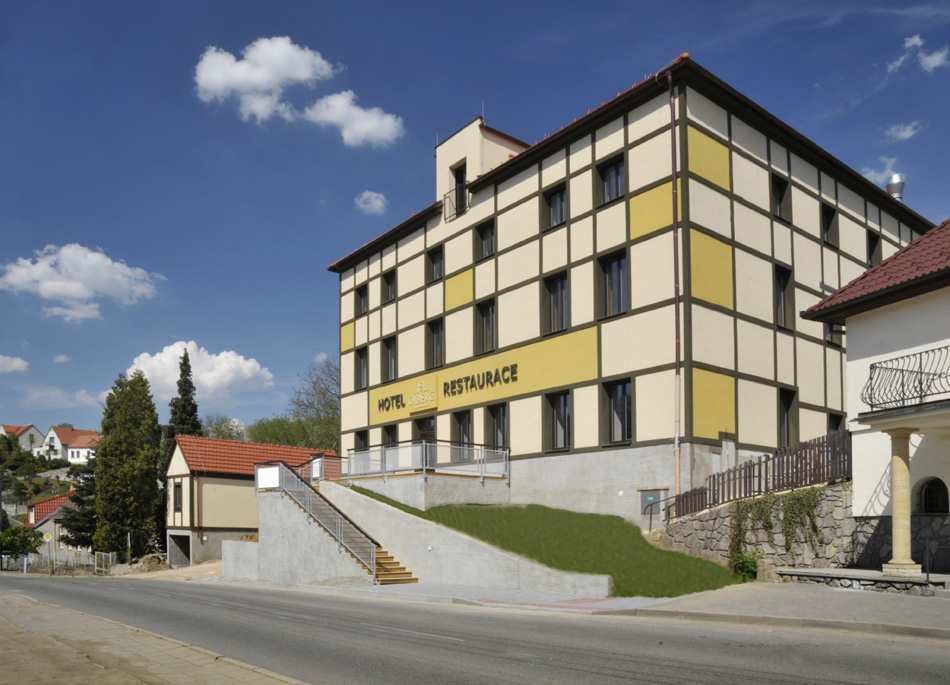 Functional and unobtrusive outdoor elevator
An important feature of the evacuation elevator is its reliability and the possibility of functioning even without electricity. When building the elevator in stainless steel, we therefore used top elevator components that ensure maximum functionality and safety. Durable equipment, elevator monitoring or service are a matter of course.
The outdoor evacuation elevator, as its name suggests, forms a kind of extension to an already built and functioning hotel. Although it is a new architectural element, with the naked eye this new "chimney" as an extension on the side of the hotel facing away from the driveway, cannot be distinguished from the original structure. The shaft is lined with Fermacell material, which has fire-resistant properties, and an insulation system for the exterior. The external facade of the attached elevator matches perfectly with the facade of the hotel. And not only in terms of colour, but also in a design reminiscent of wooden beams, which is typical for the Olberg Hotel.
Building an evacuation outdoor elevator is not a matter of long months. We handed over the complete order, which we had won in a tender competition, to the client in about 8 weeks. Thanks to our years of experience and thorough pre-installation preparation, we are able to work efficiently and avoid mistakes that could delay the construction of the elevator.
How does the evacuation elevator work?
The elevator intended for evacuation also works in the event of a power failure. In such a situation, a backup battery source will ensure safe operation, which can drive the elevator for up to 45 minutes without the supply of electricity. Therefore, it offers sufficient time not only for the possible evacuation of guests in the hotel and ensuring their safety, but also for normal functioning in the event of a power outage due to a gale or storm.
Would you like an installation that does not disturb the overall appearance of the building and at the same time meets the requirements for a functional elevator? Contact us and leave the construction of a new elevator or its reconstruction to professionals from Beta Control.
Source of photographs: Beta Control