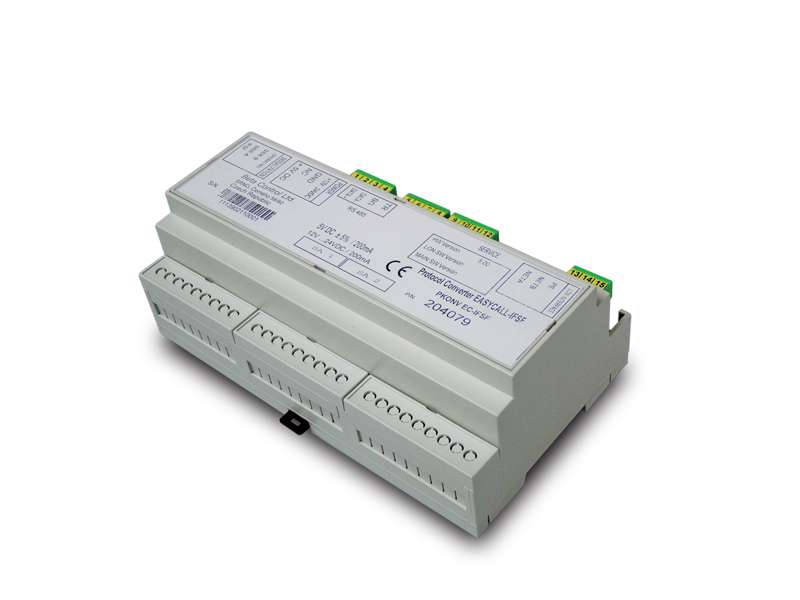 IFSF Protocol converters
In addition to electronic counters, we manufacture and supply electronic IFSF protocol converters for controlling older types of dispensers according to the IFSF standard. The converters allow you to use modern IFSF control systems especially for devices that are not equipped with IFSF. You can thus modernise the gas station without having to replace fully functional older dispensers.

I-PROP converter
We developed the I-PROP type converter as a universal module that enables the conversion of proprietary interfaces according to the IFSF/LON® standard. I-PROP converts communication from two dispensing points with a proprietary protocol to two dispensing points according to the IFSF standard. On the side for communicating with the dispenser, I-PROP is equipped with two asynchronous communication lines. The modular concept enables the use of different types of communication interfaces (e.g. current loop, RS232, RS422, RS485, etc.).
The I-PROP converter is housed in a plastic box intended for installation on a DIN rail. A wide range of working temperatures (-40°C to +80°C) allows installation directly in the head of the dispenser or switchboard. The I-PROP converter requires power from an external stabilised +5V source. On demand, we can equip the converters with an internal module for +12V to +24V power supply.
Multi-converters
For large gas stations, we supply multi-converters, which contain several I-PROP converters installed in a PC case together with a power supply. Upgrading a device using multi-converters is very simple. It only requires reconnection of the original communication lines to the multi-converter and its connection to the IFSF cash register system.

Supported dispenser communication protocols
EasyCall (Adast)
ATCL (Autotank)
Christian Rowsing
DART (Dresser Wayne, Petrolmeccanica)
ER3/4 (Mannesmann-Kienzle, Salzknoten, Scheidt-Bachmann)
EPS (EPS3, EPS, EPS6) (Tokheim)
UDC (Tokheim)
Tatsuno Metax (Tatsuno)
ZSR (Schlumberger)
A reliable and smart technological solution
Wealth of industry know-how since 1994
100% Czech company with own development and production
A tradition of satisfied customers, renowned clientele
Convenient innovations – maximum comfort of complex solutions
Directory of areas of activity
Were you unable to find a solution in the basic menu that would meet your expectations? Contact us and we will offer you a tailor-made solution.

Download our catalogues and product sheets.

Download our catalogue of communication libraries.
Download our Product Catalogue for gas station technologies.